Karin Slaughter Bio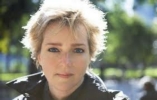 Karin Slaughter is the author of more than a dozen bestselling thrillers that have sold more than 17 million copies worldwide, have been translated into 29 languages and have won a number of international awards. Her "Grant County Series", set in a small town in southern Georgia features pediatrician/medical examiner Sara Linton and her ex-husband/husband police chief Jeffrey Tolliver. Together, the couple is forced to deal with a series of horrible, sadistic crimes. In 2006, Karin published Triptych, the first installment of her vastly successful Will Trent Series.
Karin Slaughter was born January 6, 1971, in Covington, Georgia. Growing up in Jonesboro in the Lake Spivey area, she graduated from Morrow High School and, later, attended Georgia State University. She held a variety of jobs including a designer and salesperson for a sign firm. Eventually, she opened her own sign business.
---
"I think you have to write a lot of bad books before you write a publishable book."
---
She credits her father with her love for storytelling and Billie Bennett Ward, a ninth grade teacher at Morrow Junior High School for inspiring her to be a writer. Slaughter's early literary efforts, including a Civil War novel, did not sell. But she credits that period with enabling her to sharpen her craft.
Her successful writing career began with the publication of "Blindsighted." Paperback editions of it and her second novel, "Kisscut," made The New York Times mass market fiction bestseller list. Since then, her popularity, as well as her worldwide fan base, has continued to grow.1