Ed McBain Bio
This page is dedicated to one of my favorite authors, Ed McBain, author of the 87th Precinct mysteries with Steve Carella, Meyer Meyer, Bert Kling and Cotton Hawes. McBain's final novel, Fiddlers, was released on September 12, 2005. It was his 55th 87th precinct novel.
Hell bent on reading them all? Here's a printable 87th Precinct Series checklist for your convenience.
---
"I would like to win the Pulitzer Prize. I would like to win the Nobel Prize. I would like to win a Tony award for the Broadway musical I'm now working on. Aside from these, my aspirations are modest ones." ~ Ed McBain
---
Ed McBain (Salvatore A Lombino), writer, born October 15 1926; died July 6 2005. Like all his fans, I am saddened by his departure... and wish him a happy landing. (obit.)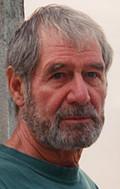 Ed McBain/Evan Hunter published his first 87th Precinct novel, Cop Hater, in 1956. Though he insisted that Isola, the gritty city in all his Precinct novels--there are now more than 50--was imaginary, everyone knew he was writing about his hometown: Manhattan. Not only are his police dramas based on years of primary research riding in patrol cars and visiting morgues, cop bars, and squad rooms, the authenticity of his locale is clearly a product of intense personal familiarity. It is interesting to note tha Isola means "island" in Italian. Manhattan is an island, and McBain/Hunter just happened to be of Italian descent -- he was born Salvatore Lombino.
He was the first American ever to receive the Diamond Dagger, the British Crime Writers Association's highest award. He also held the Mystery Writers of America's prestigious Grand Master Award.¹